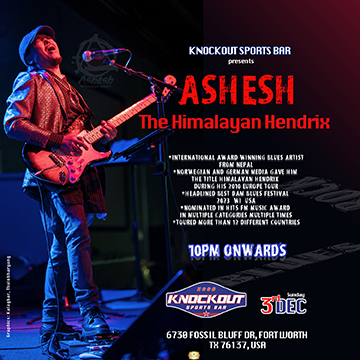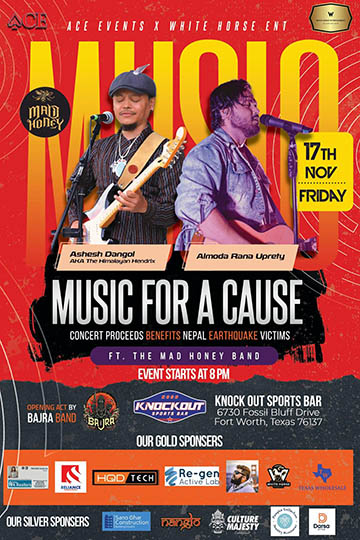 Ashesh Dangol, also known as Himalayan Hendrix, captivated the audience with a one-hour performance during the Best Dam Blues Festival held on the scenic banks of Milwaukee River in Thiensville, Wisconsin, US, on September 16. The festival, renowned as one of the most popular blues events in the US, took place over the weekend of September 15 and 16.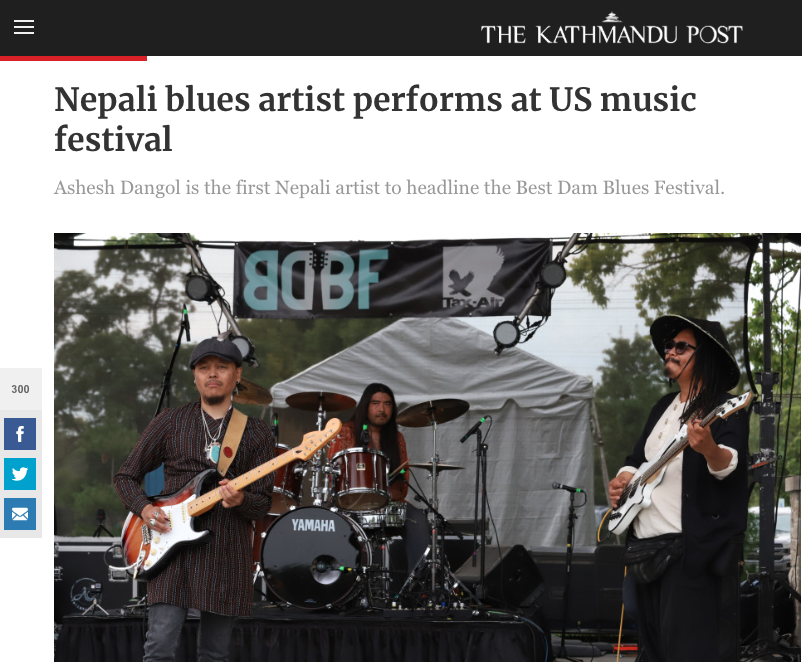 नेपाल क्यालिफोर्निया अमेरिकाको आदिवासी जनजाति महासंघले अशेष डंगोल उर्फ ​​हिमालयन हेन्ड्रिक्सको एक विशेष कार्यक्रमको आयोजना गरी बैशाख ९ गते शनिबार सम्मान गरिएकाे छ ।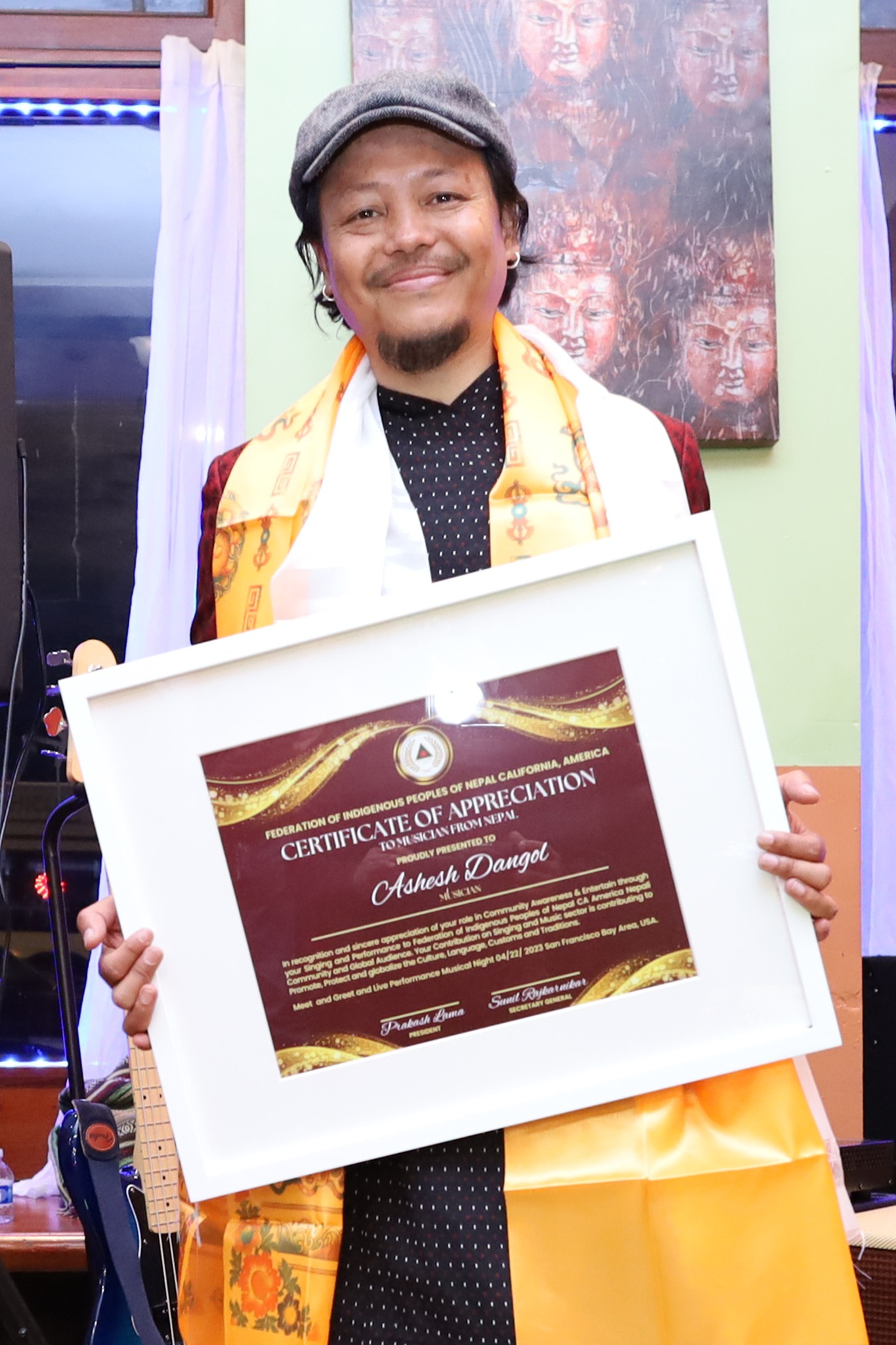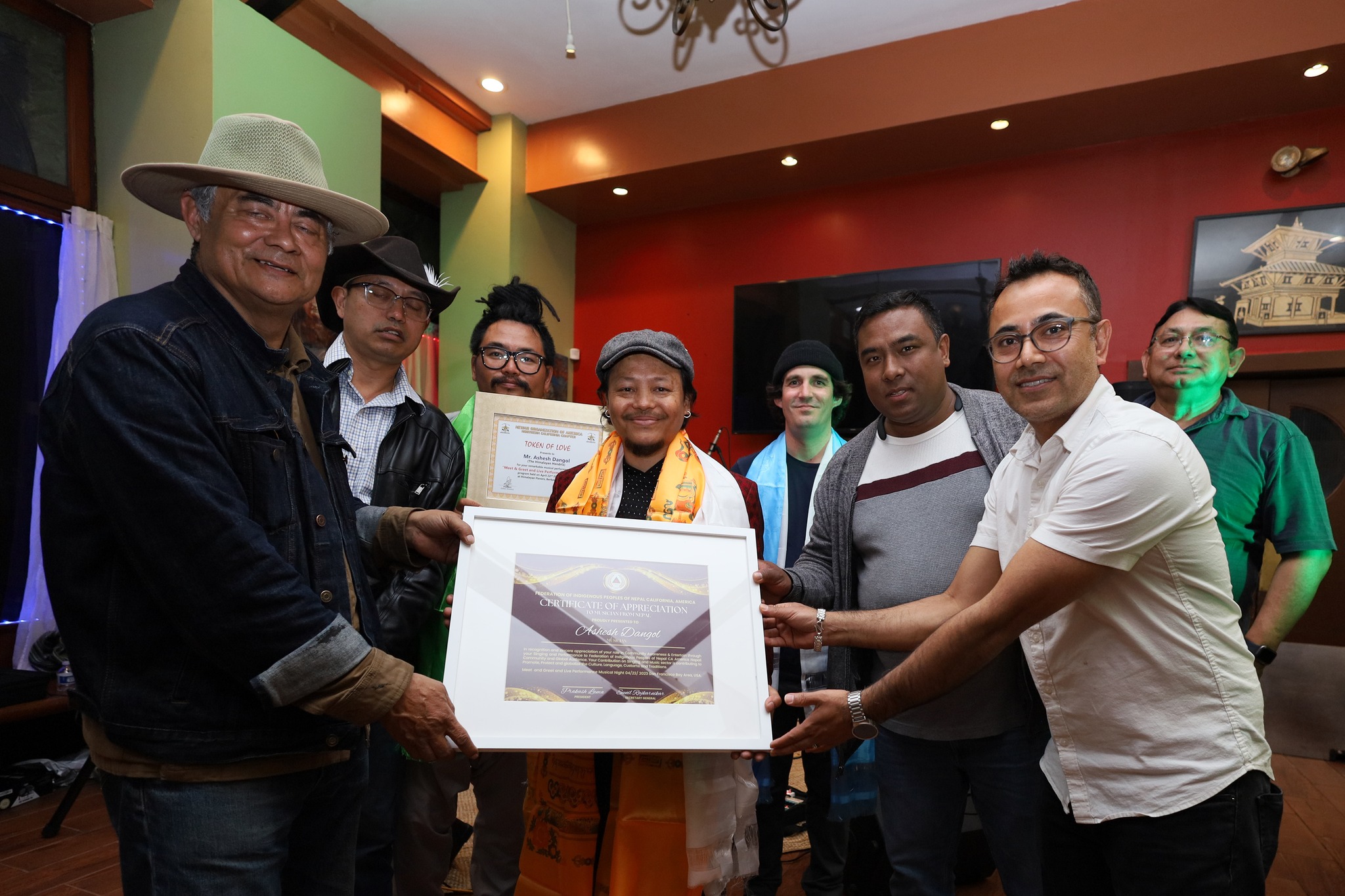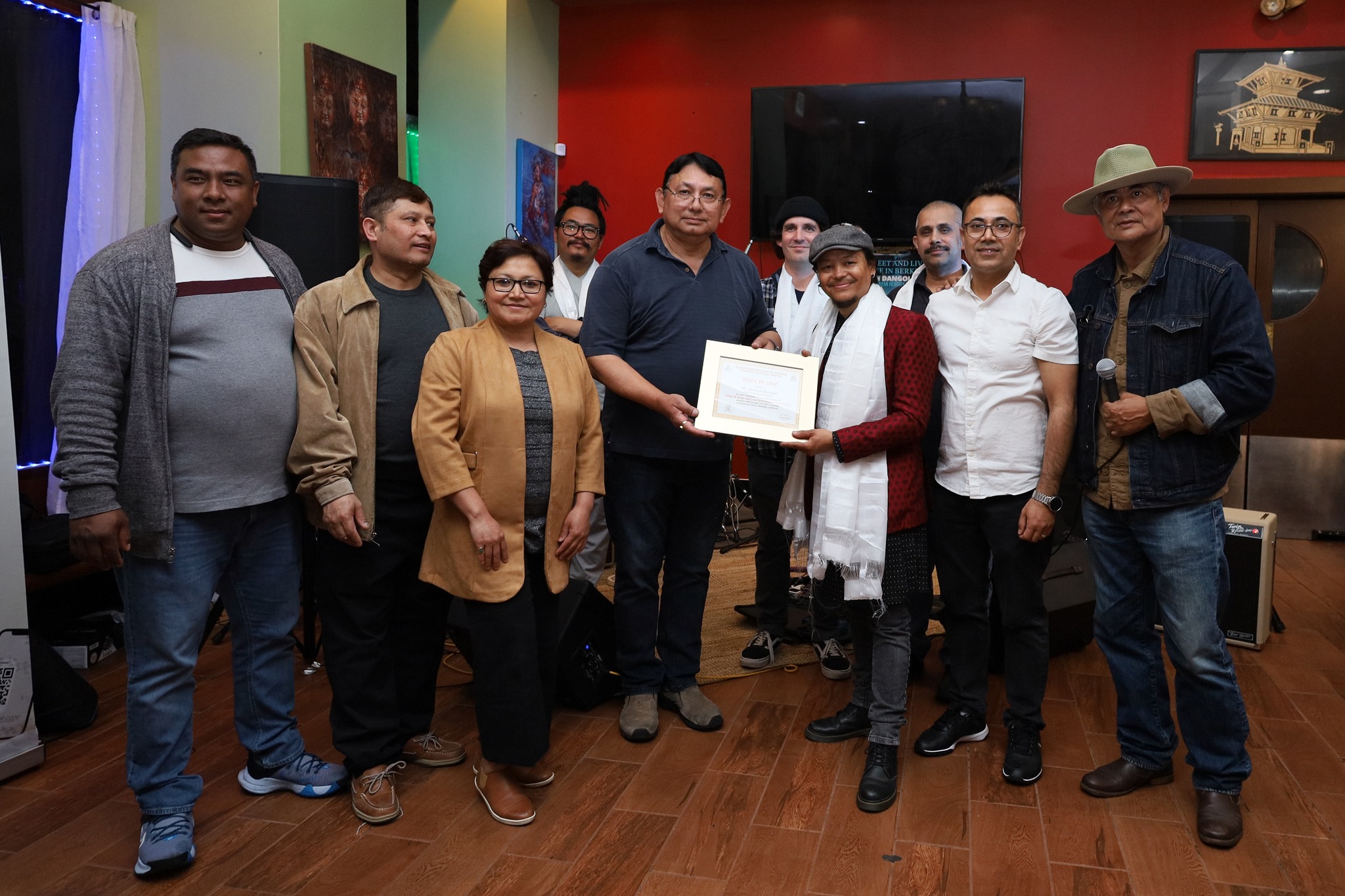 Ashesh "All Those Beautiful Dream" released on 3rd September 2022 at Rastriya Naach Ghar , Jamal. All the songs in the album was written, composed, mixed/ mastered and produced by Ashesh Dangol. Bikash Shrestha and Nitin Rana has played Bass and Drums in the album. You can now purchase the album in all digital platforms or ordered the album directly from Ashesh. To ordered the album directly you can write to asheshdangol@gmail.com
Ashesh
Ashesh Dangol aka Himalayan Hendrix is an internationally recognized award-winning artist/ musician and blues guitarist. He needs no introduction to the Blues world as he traveled over 11 countries with his music and photography. He recently headlined the Best Dam Blues Festival held on the scenic banks of Milwaukee River in Thiensville, Wisconsin, USA, on September 16, 2023 representing Nepal.
During his 2010 Europe tour, he was given the title "Himalayan Hendrix" by the Norwegian and German media. He started his music journey in 1994 with the Ashesh & Nekhvam trio playing evening venues in Thamel, Kathmandu. He has headlined several major national and international music festivals, such as the Kathmandu Blues Festival 2006 (Kathmandu, Nepal), North Meets South Music Festival 2010 to 2014 ( Nepal), Alamar 2007 Music Festival (Almeria, Spain), Blues and Balance Festival 2010 (Helgeland, Norway), Himalayan Festival, Sandefjord Norway, 2010-2011, Fauskivalen Music Festival 2010, 2011 and 2016 (Hemsedal, Norway), Edinburg Mela Festival 2011 (Edinburg, Scotland), It's All Gravey Festival 2011 (Sussex, England), Herzberg Festival 2011(Hamburg, Germany), Tribute to Hendrix, Remember Jimi festival, 2011 Fehmarn, Germany and the list goes on.
He was awarded by Colorado Music Business Organization, Colorado for his contribution in music and social work in 2015. Nominated in Hits FM music Award in 2010 and 2016 in various categories. He has also Judge many musical competition including Battle of the Bands, UK in Nepal. Have also worked as a music teacher in School of Rock, USA.
Ashesh started his United States tour with the slogan Searching for the Blues in 2017 touring on the East Coast and the South. He came back to USA again in 2019 and continued touring in the South and the Southeast including his solo shows such as the Himalayan Hendrix in Lalaland in Clarksdale Mississippi, "The East Meets the West" at Roberts Hall, Panama City, Florida. In early 2020, he played in the International Blues Jam representing Nepal during the International Blues Challenges in Rum Boogie, Bale Street, Memphis,Tennessee. Ashesh released his sixth album "All Those Beautiful Dreams" in the Theatre of Rastriya Naach Ghar, Kathmandu, Nepal On September 3, 2022. This album reflects his exploration of Blues and his journey in the United States between 2017 to 2020.
Ashesh represents society and social issues in his music and life. Art with activism is the practice he believes in . During the massive Earthquake in 2015, Nepal, he with his band, supporters and family members actively helped victims day in and day out for six months building temporary shelters and donating food, clothes, and medicine. He started this journey by helping the victims with his CD selling money which he has collected for six months before the Earthquake strikes in Nepal.
In 2016, he toured Norway with the slogan Pray and Play for Nepal with support from Reis Nepal, Norway. Likewise, during the COVID-19 Corona Virus Pandemic outbreak, he continued the project Blues for A Cause virtual Live Series through the Blues Society of Nepal Facebook page with Blues Artists around the world. The reason behind organizing this event is to heal the world and panicked souls through music.
More than 54 different Bands/ Artists from different parts of the world including Nepal, Japan, India, Brazil, Argentina, Mexico, Bolivia, Colombia, Peru, Chile, Ecuador, Serbia, Paraguay, Norway, France, Australia, and USA,
participated in the virtual Facebook live series hosted by Ashesh in 2020 to
2021. Please visit the website and social media for more information.
"Music creates life and when it blossoms we become one". Life is beautiful. Ashesh Dangol
Web: www.himalayanhendrix.com | www.Facebook.com/himalayanhendrix | www.YouTube.com/@AsheshDangol
Compiled by Astha Gurung